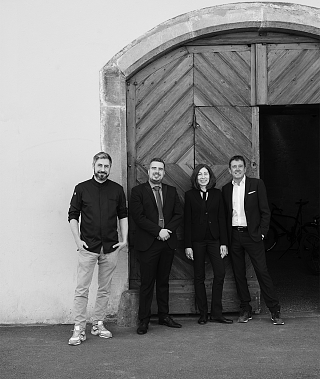 He is back in Basel where it all started with his training at the "Gundeldingerhof". Numerous stop-offs abroad then followed: Sylt, Hamburg, Bangkok. In the "Osteria TRE" in the Bad Bubendorf Hotel, he earned himself a Michelin star and 16 Gault Millau points. Now he is unpacking his culinary backpack in the revered "Ackermannshof" and presenting a modern interpretation of Mediterranean cuisine.
The host gene has always been in his DNA. Known from the traditional Bad Bubendorf Hotel, where he worked successfully for almost 30 years, he now wants to do it all again! A project like the Ackermannshof – small, fine and personal – suits his heart's desire to be with his guests and, yet, at the same time, to be able to take things a little bit easier.
At Roland's side for more than 25 years, both in business and privately, she significantly helped shaped the success of the Bad Bubendorf Hotel. With great attention to detail, she also takes care of the things that happen in the background at the Ackermannshof, while always keeping an eye on the big picture.
Once an apprentice at the Bad Bubendorf Hotel, he discovered his love of wine through his teacher at the time, Roland Tischhauser. Today, he is proud to be a certified sommelier and runs the restaurant with both passion and savvy.